Tag Archives:
Jennifer
Miami, FL (PRWEB) July 20, 2010
After her 2 hour training session, we headed back to her office where the first thing she did was prepare a BSN Lean Dessert Protein shake, made with water of course, Banana Cream being her favorite flavor.
With so much on my mind, from wanting to know how she handles the pressure, the public scrutiny, and how she also manages to take care of her "domestic" wifely duties as a mom, I just start out our interview by asking "So JNL, what is the hardest part about training for your third WBFF Miss Bikini Diva". Always on her toes and keeping you guessing, she answered "The hardest part is picking out the dress!" I was baffled, as just witnessing her draining training session, I guessed it would of been that. But nope…She went onto say "You see, since I am in a constant flow of TV, appearances, and photo shoots, my team and I have kept my training and nutrition dialed in, so I am always camera ready. So my physique is pretty much 99.9% there. We just have some tweaking to do. I'm grateful for my coach "Wicked Willie" who never lets me give up or give in during my workouts. He is THE best. And really the hard part of my career is having to speak for one hour straight while exercising, sweating under the hot lights, trying to look pretty, and presentable to over 100 million households and take live calls on live shopping networks-now that's a REAL challenge."
Well, getting back to the dress issue: "So many couture one of a kind dresses have been sent to my office from a long list of designers. Going through them all is a job in itself, one that I'm grateful for. I just want to thank all who have taken the time to ship me these dresses with hopes that I will wear it on stage. The outpouring of support has been enormous." With only weeks to go, JNL has her eye on the big WBFF Miss Bikini Diva prize. But this show is extremely important for a bevy or reasons. She hasn't officially stated her retirement from competing, but from what she has stated in other interviews, this seems to be her last and final show.
With JNL having to jot off to pick up her sons from camp, switching back into "mommy" mode as she says, I had the chance to dial up some of her close inner circle camp members. Nadine is her close friend who handles the bulk of her publicity. She confirmed my feelings about JNL by stating "I have never met someone as passionate about winning a show. She has put her heart and soul into this. If she doesn't win, something would not be right-and something would be very off-JNL has the heart of gold and the winning spirit of a warrior. She will take this crown home-yes, for a third and final time…"
Interviewing "Wicked Willie" was as hard as watching JNL train, as he is direct and a solid man of little words. When asked about JNL and her pre-training regiment "I really don't know why JNL is competing, as she already has two titles under her belt, but it's in her blood, and she has a champion spirit to match. Our training is right on spot, and she eats up every workout like it's her last. She is on fire, and her stellar unmatchable and unbeatable body will show it on the stage come September."
Marli, who is JNL's best friend and also Executive Assistant, was as open as a book when asked about JNL. She could not stop speaking how "JNL is the athlete of the century" in her thick Brazilian accent. She went on to say "JNL is the epitome of what a strong, sexy woman's body should look like, yet she also has the face to match." I could understand what Marli was leading too, as it is a boggle that some women might have the body, but not the face or hair, or long legs, or height to match. "Jennifer is tall, lean, sleek and it like her nickname, La Tigra, graceful like a wild cat who knows how to walk and present her highly trained physique"
Berns, celebrity designer of all JNL's award winning suits, was at no shortage for words. "JNL is someone who will call me even to design a suit just for her calendar, or just because she had a vision of a dream bikini. We have a kindred spirit friendship, and this competition suit will show it. We have been in deep collaboration since last year, perfecting the cuts, choosing the right sized and colored stones, and beyond.
After JNL got back from her carpool pick up at her sons camp, we had a chance to wrap up in her office. After declining a snack of hard boiled eggs, I watched her eat about 6 in a row, back to back, as I asked her the last questions that popped up. "JNL, other fitness models I interview just want their bodies to be a subject of envy. But rather what I notice with you is that you are truly passionate about helping others to be fit as well. What is it that drives you to help others?" In closing JNL stated "when I started my weight loss transformation, I didn't have a blueprint, or a success model to follow, I had to create it myself. It was in that dark area where I had no one to turn to that I almost gave up and gave in. I am so happy that I didn't, so I am making it a point to show others that there is a way, and here is the way, and I did it-and they can do it too"

For more info, visit http://www.JenniferNicoleLee.com , http://www.JenniferNicoleLee.tv, http://www.JenniferNicoleLee.me , http://www.JenniferNicoleLeeBlog.com , http://www.JNLYouTube.com
###
Find More Car Pooling Press Releases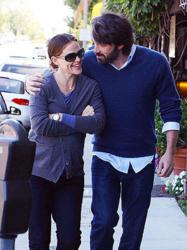 Los Angeles, CA (PRWEB) April 27, 2012
ExploreTalent.com, a premier on the internet social-network for talented people in the entertainment industry, announced a new blog on their news site right now, titled, "Jennifer Garner Honored with Female Star of the Year Award," according to US Weekly on 4/27/12. The website, (http://news.exploretalent.com/jennifer-garner-honored-with-female-star-of-the-year-award/) states that "The Odd Life of Timothy Green" star, Jennifer Garner, 40, was honored with the Female Star of the Year Award by CinemaCon in Las Vegas.
&#13
Although accepting the award, the mom of 3, Violet, 6, Seraphina, 3, and Samuel, 2 months, with actor Ben Affleck, 39, joked about the lack of acting in her life.
&#13
Clad in a black Michael Korse dress, Garner stated in the course of her acceptance speech, ""I told my mom the other day I was receiving this award . . . and I was excited and feeling proud and believed she was going to be proud, and then there was this pause on the other end of the line. She mentioned, 'Jennifer, do these individuals know you have not worked in the last year?' I stated, 'Yeah, I really feel they probably know what I've been up to. I have not stepped foot on a set. You are right, mom.'"
&#13
"She stated, 'Can they take this back? Due to the fact each time I talk to you, you are breastfeeding, you are operating car pool, you are on the library committee — you are not acting!' I stated it really is not all about the now, it is factors you have accomplished in the past or in the future," Garner explained,&#13

"And she was like, 'Honey, you have a weird job.'"
&#13
Her fans hope to see Jennifer on screen very soon!
&#13
Discover Talent is a professional site that connects actors, models, musicians and dancers in the United States. The business posts blogs on their web site so that members can remain up to date on celebrity news. The on the web neighborhood has been accountable for new collaborations and company ventures in entertainment. Discover Talent is responsible for numerous models and actors receiving acting auditions and modeling auditions by finding out about casting calls. Explore Talent also assists aspiring entertainment pros additional their careers with contests that showcase their profiles to members of the social media neighborhood. Additionally, the Explore Talent internet site attributes celebrity movies, exclusive interviews with actors, actresses, and musicians, such as Joan Rivers, Usher, Akon and T-Discomfort.
&#13
Discover Talent's proprietary software package and vast infrastructure is the most sophisticated entertainment-based technologies of its sort. The site's reputation is based on the truth that there are a lot of approaches for talent to network, make buddies and connect with other sector players, participate in wide assortment of contests and earn prizes for getting active on the internet site. The easy access to a pool of over six and a half million members attracts industry players who are posting every single month about 50,000 new auditions and job openings which is 30 instances more than any other website.
&#13
For more information, please check out http://www.exploretalent.com
&#13
&#13
&#13
&#13
&#13